Important Food and Nutrition News
Your One-Stop Source for the Latest News on Healthy Living, Good Nutrition, Diets and Food Price Trends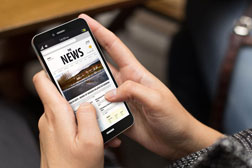 Every day we research food-related information from dozens of sources. We then post on this page those we believe are the most important, and those we believe you will find to be most helpful.
In the light blue box (at left) you will find the titles of the five most recent articles on the subjects of DIET, NUTRITION, HEALTH, or FOOD PRICES. After the title of each article, the date it was posted is shown in parentheses. CLICK ON ANY TITLE IN THE LEFT-HAND BOX AND THAT ARTICLE WILL OPEN FOR YOU TO READ.
TO ACCESS THE FIVE MOST RECENT ARTICLES ON A PARTICULAR SUBJECT, simply click on the dropdown box, choose the subject you want and the five most recent titles on that subject will appear.
TO SEE ALL PREVIOUS ARTICLES ON ANY SUBJECT, click on "View all previous articles" at the top of the light blue box. In the new window that opens, the titles of all previous articles will appear. Or click on any tab at the top and the titles of ALL previous articles on THAT SUBJECT will display for you to choose.
For additional, specific information for your family on any News Alert topic - or to give us feedback or suggestions - please email us from the 'Contact Us' page of this site or the e-mail icon on the home page. If you prefer, call 913-888-5000 or 1-888-5000-GFI.
Also, be sure to ask your Guaranteed Foods or A la Carte Food Economist if you'd like additional assistance in the areas of 'health', 'diet' or 'nutrition' - or just getting the most value from your food dollar.